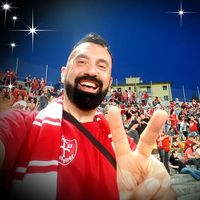 Hi, my name is Massimo Amenta and I am from Trieste, Italy. My family and I have a small piece of land on the Trieste hill that we are arranging slowly, even with the help of my friends in my spare time.
Since my father got sick and I work out of town, we can no longer follow the terrain as we would like and we would need help, a cheerful, friendly, open-minded volunteer who loves life in the open air, in short, a positive person.
Activities
If someone would like to help us
rearrange walls,
paint wooden poles,
cultivate the land,
take care of plants,
creating the new irrigation system is welcome.
All this with true relaxation without schedules.
Food and accommodation
I can offer "vitto e alloggio" food and accommodation for an agreed period.
Visa
Unfortunately, I won't be able to provide VISA, nor invitation letters 
I will ignore messages with such requests
---
CONTACT DETAILS
my contacts are:
WhatsApp +393289292171 or
Facebook https://www.facebook.com/massimo.amenta
email: massimo.amenta@hotmail.com
Thanks for your help Massimo
---