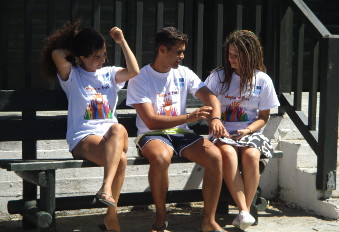 Volunteer in Skiathos, Greece! Dear voluntourist, this is an EVS invitation, food, accomodation, travel expenses and pocket money are provided.
For this year (as a teacher, I usually think is school years), we have in mind a lot of ideas and new projects to improve our impact and the life on our island. Yes, we live on the beautiful, paradisiac island of Skiathos, in Greece (if you have seen Mamma Mia 1… That's the one !).
The biggest project on our plate right now is to buy a piece of land, ask a permaculture specialist to design it and move there (in a prefabricated house at first and then, wherever and however anyone would want. The house would always be available for the volunteers).
Accommodation
Right now, the volunteers live in a big house with 3 bedrooms with me, my family, our dog and our cat.
We always have a lot of people coming over, mainly couchsurfers ( https://www.couchsurfing.com/people/joycenfun ) but of course your friends and family would be welcome too.
Volunteering Activities
So, that is about us.
This volunteering project is a 4 months transition phase. Your tasks would be :
Work on our website http://www.joycenfun.gr We need to fill some more content but more than that, we'll make a page for volunteers to apply. No previous skills are necessary, we will offer you an online course (I will follow it too) to allow you to discover how to make a database and look for data in it.
Help with the managing of what we call the Agape's hub, being all our guests that come and go
Help us chose the next ESC volunteers as one might come to live with us before your departure
Present Erasmus+ to the youth of the island, live or with a video and look for new partners
Help us put put some order the organisation's finances
Depending on how the "Joy'ce kingdom" project is going (that is the permaculture piece of land one), some physical tasks might be in order (moving, gardening, etc) but that part is only if you are interested to learn with us
Helping in everyday tasks (if you like to walk, our dog will love you)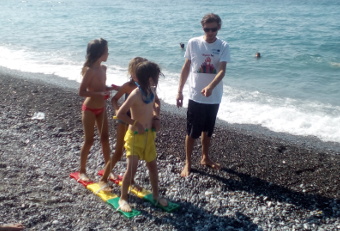 We'd need someone who is a "team player" but who also can take initiatives and wouldn't need someone looking over his/her shoulder. We allocate tasks every week but your schedule is quite free, so you'll be able to decide when to work and what to do with your free time (the island is perfect for hiking, walks in the forest or on the beach, etc. and has a variety of sport and cultural activities.)
So, what do you say ? Do you want to join us ?
---
CONTACT DETAILS
---
Host Name Joyce 'n' Fun
Email joycenfun@gmail.com
Website and social media
http://www.joycenfun.gr
---