Coronavirus travel updates – following the example of the famous Couchsurfing platform we share some useful information, for those of you who are still travelling or volunteering abroad.
---
Update March 14th: We urge all volunteers and travellers to actively communicate with their hosts regarding the local situation in the cities and towns they are travelling to. The situation can change rapidly and there is a potential for travel to be affected or halted due to the virus. Ensure that you have a backup plan if your host is unable to host you, contact your insurance regarding trip cancellations or rerouting tickets. If you plan to attend events, contact the organizer to ensure it is still taking place as some cities have limited public gatherings. Continue to take all usual precautions, like washing hands, seeking medical attention if you feel ill and covering your mouth when coughing or sneezing.
---
In December 2019, the first case of COVID-19 was reported in China and has since been reported in various countries. "COVID-19 is still affecting mostly people in China with some outbreaks in other countries. Most people who become infected experience mild illness and recover, but it can be more severe for others." –WHO
One of our top priority at Voluntouring is your safety. We recommend that you stay up to date on the virus through the WHO (World Health Organization) website, your local news, and your country's health warnings. If you have an upcoming trip to a place that currently has Coronavirus outbreaks, please read that country's health recommendations as well. If you are currently hosting or volunteering, please communicate with your host/volunteers and be respectful and understanding of any trip changes. If you are feeling unwell, inform your guest or host and ensure that they are comfortable with the trip proceeding.
Standard recommendations to prevent infection spread include regular hand washing, covering mouth and nose when coughing and sneezing, thoroughly cooking meat and eggs. Avoid close contact with anyone showing symptoms of respiratory illness such as coughing and sneezing.
The WHO recommends the following basic protective measures against the Coronavirus:
1. Wash your hands frequently
2. Maintain social distancing (1 metre/3 feet) with anyone coughing or sneezing
3. Avoid touching eyes, nose, and mouth
4. If you have a fever, cough, and difficult breathing – seek medical care early
The WHO has also posted this Q&A on protecting yourself while travelling during the Coronavirus outbreak: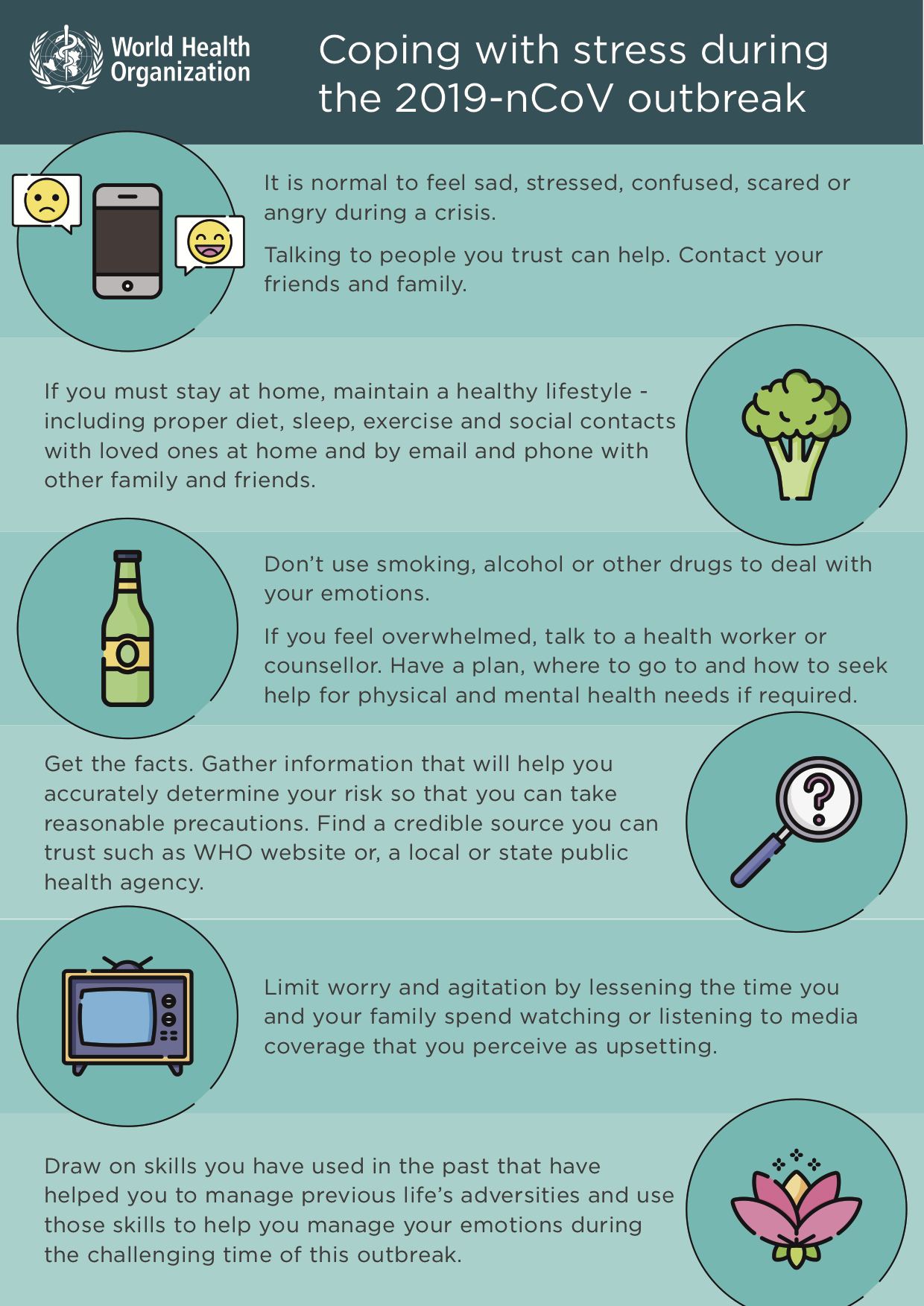 WHO: Coping with stress
---