Become a co-creator of the One Caucasus Festival 2020 – Our Team is ready for any scenario, so don't worry – we will either meet in Georgia or work on-line or both in respect to COVID-19 safety measures! We have 5 international teams you can choose from and simply fill the application so we can get to know You!
Details of each team in the form.
You can also send a friend request and a private message to Honorata Agnieszka Kaczmarek
Activities:
2. Participatory Architecture & Construction Team
3. Festival Information, Promotion and Documentation Team
4. Cooking for One Caucasus Team
5. Logistics & Organization Support Team
The 7th call!
This is the 7th Call for the International Volunteer Program of One Caucasus.
One Caucasus is the International Program and Festival made by people for people. It is definitely neither the biggest nor the most expensive event. Our task is to use our talents, professional skills and imagination to create one of the most inspiring and inclusive festivals.
But this call is special!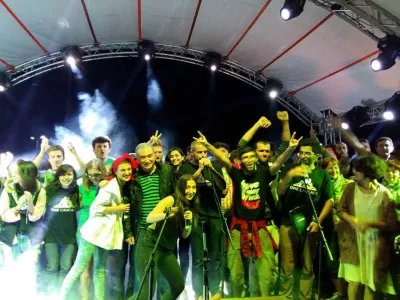 In this crisis situation of a global pandemic – we still do not know if we meet in person, on-site in Tserakvi this August. But we know that whatever would be the situation – we are going to continue the Program and Festival One Caucasus this year.
Our work includes creative education, interdisciplinary and multimedia art, participatory architecture, multilingual promotion and outreach, research and documentation, cooking and logistics – and finally: inter-genre and international music.
Every year, in each of the above fields, we worked on-site in Georgia, but we can work online too.
In June, with our local partners, we will make a decision what format of One Caucasus  Festival 2020 we will pick – but even if we would have to move all of One Caucasus activities on-line, we will make sure that they will be oriented on the local context of One Caucasus home – Marneuli, Kvemo-Kartli region.
So this time we want to find people who could not only work with us in Tserakvi, but also those who would like to share their talents in international, on-line task teams.
Each year One Caucasus volunteers co-create teams that make this Festival a unique event. This edition, One Caucasus will host 5 different teams again. You can choose your team on page 2.
---
CONTACT DETAILS
---
To APPLY please go to:
https://docs.google.com/forms/d/e/1FAIpQLSd3_dBvPbcs_HBAELkoijxjK1goW2OXJVAo5c_NKw__SHZF2g/viewform
---
You can find more volunteering opportunities in Georgia here.
Also, visit the article section about COVID-19