Bimblebox Nature Refuge
Help at a nature refuge in Australia – Hello. I have lived in the Australian outback for 40 years, and I arrived when I was 20. My paradise is a natural sanctuary that I am defending from coal drills.  I am writing to you in case you know of any friends already in Australia who would like to help keep our projects going while I return to Italy for a period. My father passed away, leaving my mother who needs at the moment her only daughter back home.
Do you charge volunteers a daily or weekly fee?
No, we offer free food and accommodation
How many hours of volunteering help will you expect per week?
about 20-25 hours
About Bimblebox
Bimblebox Nature Refuge is a peaceful 8000-hectare sanctuary in central-west Queensland. It is currently threatened by plans for a giant coal mine, proposed by Clive Palmer's Waratah Coal. It is composed of remnant semi-arid woodlands with an understorey largely made up of native shrubs, forbs and grasses, and has a rich diversity of birds, reptiles and other animals. Bimblebox is a genuine example of how production and biodiversity conservation can co-exist. A small herd of beef cattle assist in the control of exotic pasture grasses, and a number of long-term research projects are aimed at generating knowledge and management practices to improve outcomes for biodiversity across the region.
If Bimblebox survives the current coal mine threat, it is likely to continue to be an important long-term research site, an example of sustainable rangeland grazing, and one of the very few large areas of intact remnant habitat remaining in the bioregion. It will also serve as a test case as to whether the Queensland state and Australian federal governments are willing to alter outdated legislation so that conservation values are considered as, if not more, important than mineral interests.
Become a volunteer – Come spend a few weeks, months, or longer at Bimblebox Nature Refuge
With the core Bimblebox caretaker team focused on the immediate issue of protecting Bimblebox Nature Refuge from the threat of total destruction for coal, we welcome help with the more routine tasks here at the nature refuge and at its sister property, Kerand Station, a 1½ hour drive to the east.
Kerand and Glen Innes (a.k.a. 'Bimblebox') are 110km apart, outside of Alpha/Jericho in Central West Queensland. Both properties run cattle to cover costs, preserve remnant bushland (uncleared), and are home to native flora and fauna. Volunteers are needed on both properties in the short and long term to help with farm and conservation work.
Jobs include:
Fire is an important management tool at Bimblebox. There is the constant threat of uncontrolled fires coming onto the property during the summer months, which would be devastating for wildlife. Controlled burn time is August and September.
Fire is an important management tool at Bimblebox. Controlled burn time is August and September.
Weeding (see below);
Working with cattle;
Fence checking and repair;
Irrigation system maintenance;
Feral animal trapping;
Helping organise surveys;
Working with horses (experience required if you wish to do this);
Welding (some big projects in mind);
Cooking and cleaning, admin., or helping host an occasional visitor or groups of visitors (scientists, media, fauna survey, etc.);
Building repairs;
Chopping wood;
Vegetable garden and small orchard maintenance;
Odd jobs to support food preservation and other subsistence living tasks.
Summer weeding:
Summer rain is usually expected sometime between November and February. Once the rain falls, it's all hands on deck to help retain native species, so at that time of year, we are always looking for volunteer weeders who are willing to put in a full two-week stint (or more if you wish).
Return ticket by train or bus to Alpha, food and accommodation on Bimblebox or its sister property provided. Send us a request (bimblebox@gmail.com) and we will send you more info. Then… if you are still interested, we will call on you when the rain falls and hopefully you will be free to come!!
Weeding is required to keep Bimblebox's iconic native grassland in the good condition that makes it a refuge for wildlife year-round. We've had some big wins with several noxious species in the 20-year life of the refuge – all but eradicating rubber vine, Parkinsonia, mimosa, and coffee senna – while holding back introduced pasture plants that were sown across Northern Australia at least until the late 1900s is just as important (eg. Buffelgrass and Seca stylo).
Help on this front would be very much appreciated!
Important information: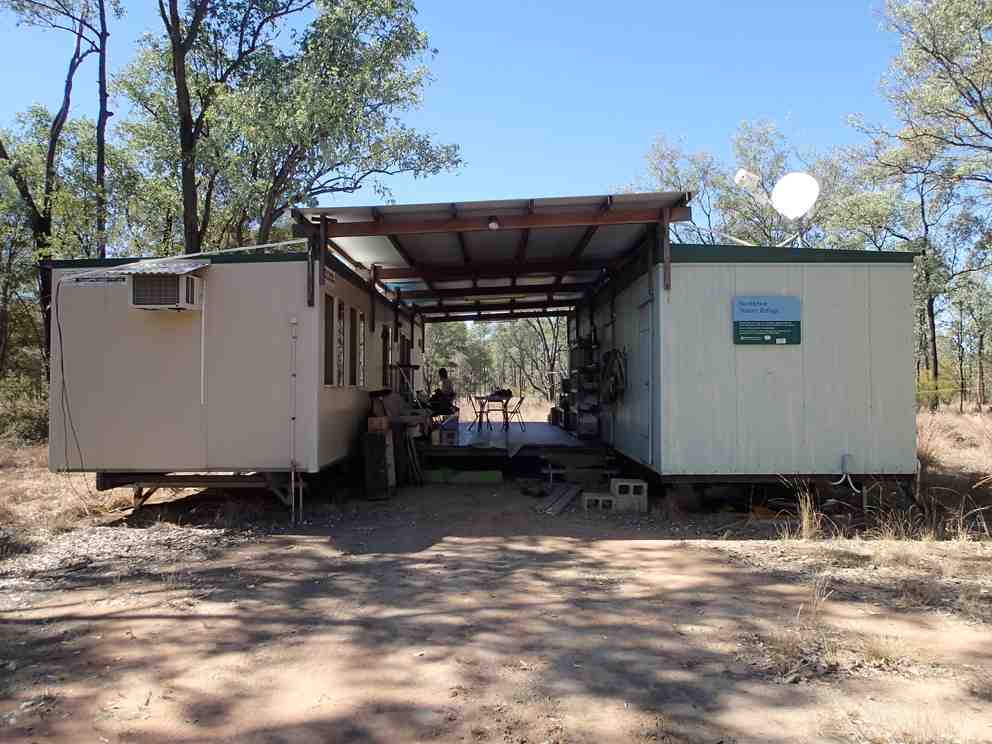 At times you will need to be able to look after yourself in a remote environment. There may be just you and one other volunteer, or – once you're more experienced – just you by yourself on the property at any given time, unless more helpers or visitors are on their way over.
We are grateful when volunteers are flexible – willing to help out with a range of tasks as needed. Before commencing any work you will need to sign a Waiver of responsibility.
It can be tough work in harsh conditions, sometimes repetitive. But we believe it's an interesting life, with plenty of opportunities to learn about land management, agriculture and ecology, and to gain bush skills.
Our past volunteers tell us the chance to get to know the place, and spend so much time under the sun and stars makes it worth it!
On Bimblebox, there is:
Grid electricity, electric oven and stove, optional air-conditioning and fly screen in one of the two dongas, a washing machine, flushing toilet. Limited internet, no TV, limited Telstra only mobile reception. You can sleep inside or outside, and laptops are okay.
On our sister property, Kerand Station, there is:
Limited solar-generated electricity only, wood-fire stove, pit toilet, no fly screen or aircon, hand wash clothes only. Limited internet, no TV, limited Telstra only mobile reception. You can sleep inside or outside, and laptops are okay.
You must be:
Respectful of the Australian bush;
Able to cope with isolation for extended periods of time;
A problem-solving aficionado.
Highly desirable general skills:
Experience living/working in a remote area;
Commonsense, especially when working with cattle and making sure they are well looked after;
Experience with quad bikes and/or motorbikes (must be a sensible driver because of cost of fuel and danger of erosion to dirt roads).
Food and accommodation will be provided. Please let us know if you have any dietary requirements and we will do our best to accommodate your needs. There is ample quiet time and space for study during the day, so you can bring your uni /other work with you.
Important logistical info
You need a few weeks here, really, to become properly useful in the paddock. And then once you've become useful, we'll want you to stay for a while to apply your new know-how! Of course, it still applies that everything you do, even the small and mundane jobs, helps the long term caretakers, and the kinds of jobs that need doing will ebb and flow.
Children welcome but know that our food and accommodation is basic, and there are no entertainment services – the ecology seems raw and harsh to some people, and the heat can be difficult.
Note.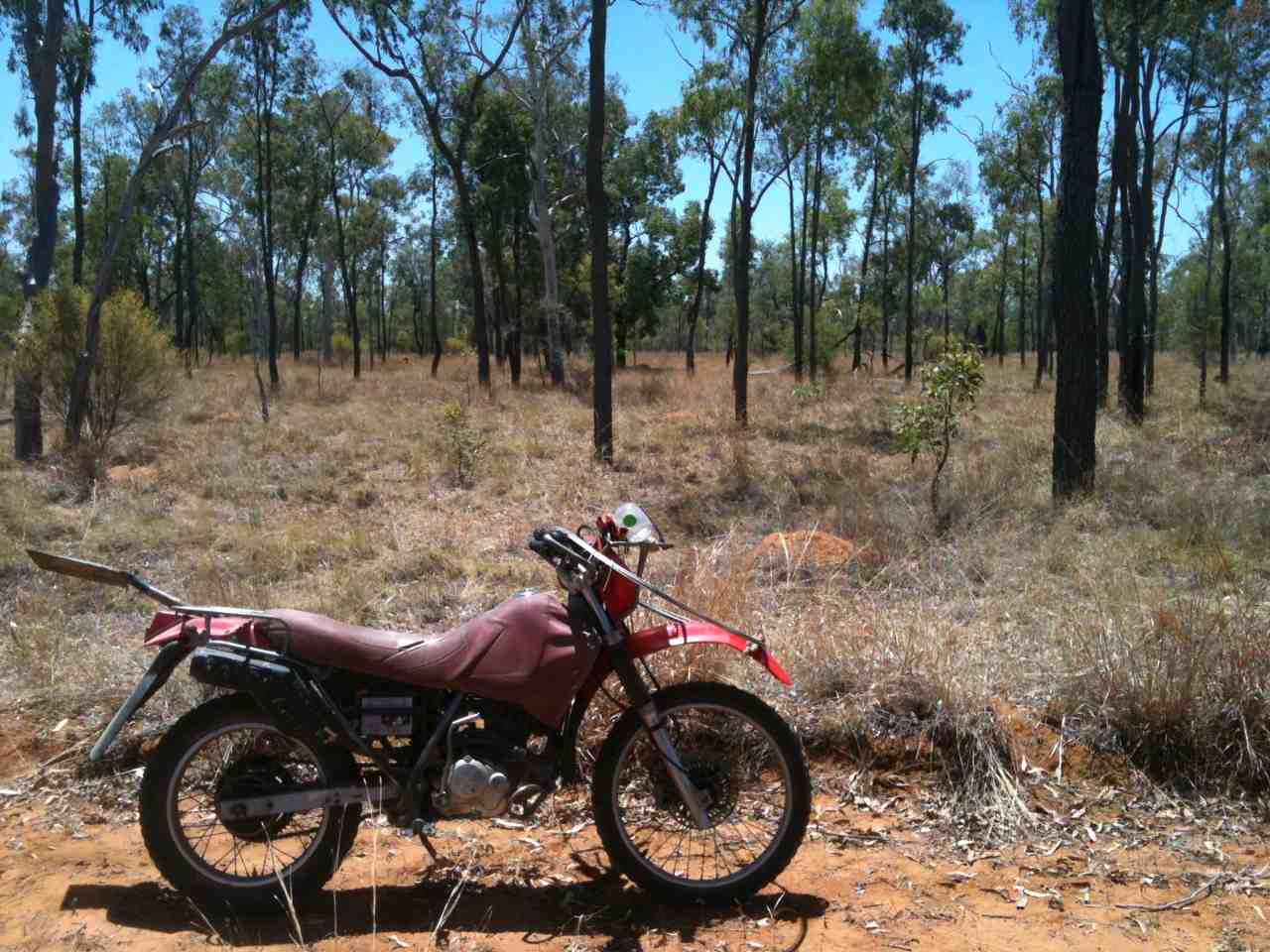 Please talk to us well in advance of your visit, and give us at least one week's final notice. Minimum stay two weeks if you need a lift, or you want to get into work with fences, cattle, traps etc.
Roads may be cut off after rain, sometimes for days. Please keep this in mind if you are planning to volunteer with us. If stranded in Alpha there is free accommodation until you can drive out or be picked up.
How to reach us
You can travel by bus, train or plane to Alpha or Emerald and please make prior arrangements before arrival – at least a week's notice, as we don't want to make unnecessary trips into town.
Own cars with high clearance ok, and preferably 4wd during the wet season though we don't like our roads cut up, so when wet, better stay off them for a while. If you drive to Alpha in a low clearance vehicle, we will try to arrange to collect you, and in this case you can leave your car in the care of our friends in Alpha.
The work there is to do is highly variable, depending on the season, and the weather!
You must be prepared to encounter:
ticks;
insects, including flies and mosquitoes;
spiders;
snakes;
weather extremes (up to around 40 Celsius in summer, sometimes down to around 10 at night even in summer);
being rained in at any time of year;
dust and mud etc.
The risk of bushfire from lightning is very high in the dry season.
In the summer we need to 'follow' the weather, and a normal day will see us up and about from dawn to mid-morning and then again from mid-afternoon till dark to make use of the cooler hours of the day.
A map of Bimblebox is available here.
---
CONTACT DETAILS👇🔍
---
For more information, please get in touch with: Paola, caretaker team
The link explains my story in more detail.
Link👉 https://bimblebox.org/in-the-media/interviews-audio/
Host Name:  Paola Cassoni
Email: bimblebox@gmail.com
Website: http://bimblebox.org/
https://www.facebook.com/Bimblebox
---