We're looking for some volunteers for the Festival of Creativity in the Czech Republic
Updated March 2022 – Would you like to volunteer at the Festival of Creativity 8-17 July in the Czech Republic?
You'd be helping prepare one meal a day and would have the rest of the time free to enjoy the workshops and music.
It's camping and all the food and tea are covered.
It's a festival without alcohol, dogs or phones 
Go to the contact details section below 🔍📧 to get in touch  👇
If you're interested please:
write me a message telling me a bit about who you are and where you would be coming from
be 100% sure that you can actually come
be 100% sure that you will keep your word and actually turn up even if you do get a new job/relationship/kitten
The festival is camping and there's no alcohol or electricity. We make all the food and tea for everyone. It's a little festival of 100 people.
Please only get in touch if you actually live in Europe.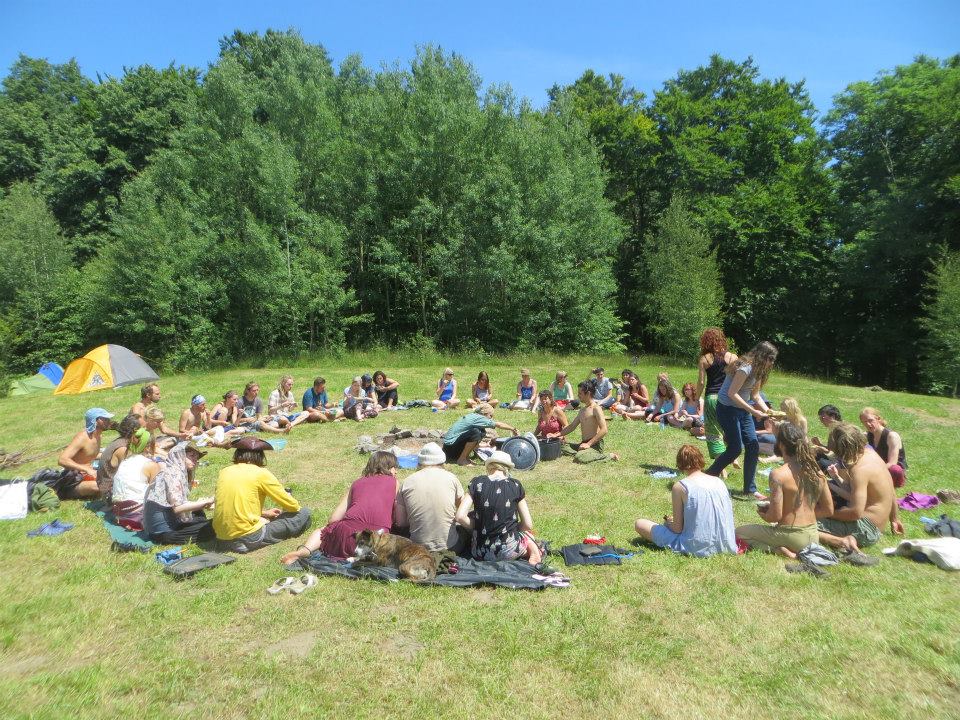 More info
A cosy event by a lake and forest with 120 people making music around the fires, teaching workshops and eating together – all without alcohol or electricity. I'll be telling some travel stories there.
Most of the time you'd be helping prepare meals and generally be useful. You have half the day free to enjoy the festival and you bring your own tent or sleep in one of the teepees.
All the food is covered.
10 Days of Workshops, Music and Creativity
chi kung,
spoken word readings,
contact improvisation,
percussion,
fire making,
freeing the voice,
creative writing,
physical theatre,
mantra singing,
the joy of dance,
storytelling,
theatre,
games,
songwriting,
yoga,
eating wild plants
bushcraft,
illustration,
baking cakes,
juggling,
And anything else you can think of…
A week of learning
You're invited to join 100 interesting people in a week of learning, free expression and creativity. There will be up to 12 workshops and activities a day giving you the chance to learn new skills, explore your creative potential and meet amazing people from all over the world.
We'll be bringing in a bunch of travelling musicians to jam around the fires through the day and night and will organise activities from singing mantras at night to storytelling to collective poetry readings in the forest.
The Festival of Creativity is a different kind of festival – one where you take part! Each person who comes can propose to teach or share or organise an activity whether it's a moonlight walk on the hill or a discussion circle on the Meaning of Life. The idea is to get involved, get inspired and share who you are.
It doesn't matter who you are – old, young, experienced, new to this kind of thing – all that matters is that you bring a sense of curiosity and humour with you. That's all you need to make friends and have a great time.
We'll be camping in a beautiful range of hills in the southwest of the Czech Republic with a little lake and we'll provide all the food, tea and coffee each day as we eat, sing and learn together.
And remember: there are just 100 places so book your place while there's still space…
---
CONTACT DETAILS 🔍📧
---
If you want to join this festival as a volunteer please use one of these contacts:
Website: www.roadjunkyfestival.com
Send the host/coordinator a message if you're interested!

This announcement was published by  Tom T. on our Facebook volunteer page
---