Volunteer at a Buddhist centre
We are a Buddhist Centre and we offer meditation classes with Buddhist teachings to help people find happiness from a different source – their own mind.
Within our Centre is a busy cafe which is run by volunteers and volunteers also help with cooking for the cafe and for our team.
In addition, some housekeeping is involved such as cleaning and maybe a little admin and publicity.
General info
We enjoy welcoming working visitors/volunteers from different countries of the world including our own country. We work as a team here and enjoy learning about other's cultures as well as all the similarities we all have.
We are a Buddhist Centre and people have the opportunity to attend classes and to talk to experienced Buddhists and meditators.
Just to let you know a little bit about our place and our activities – the main work for volunteers is at our vegetarian World Peace Cafe, where you can help with serving, making drinks, making food and so forth and we will provide full training and no experience is necessary.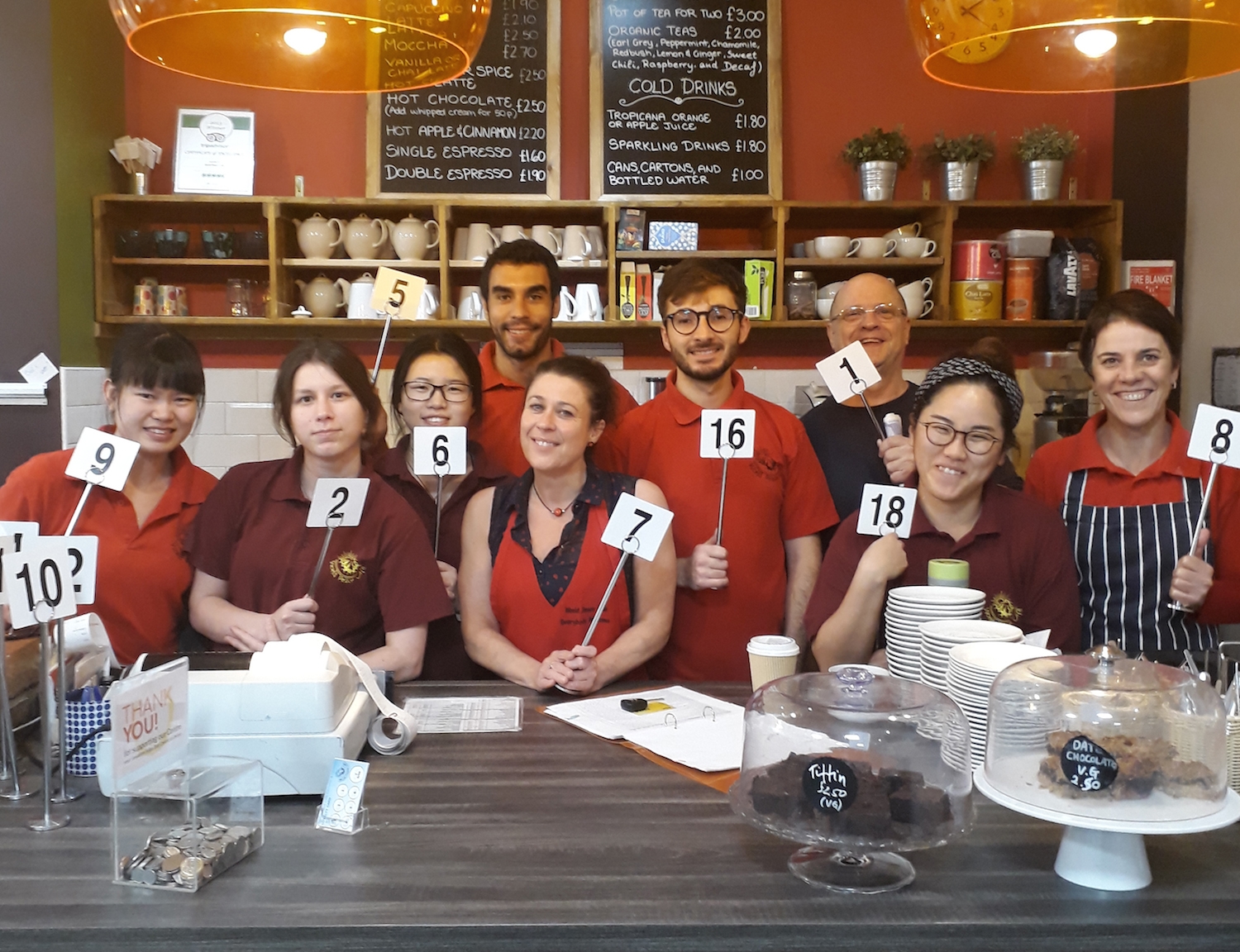 In our rota for volunteers, we also include:
cleaning up common areas,
helping at the front office,
helping during our classes,
taking out publicity locally,
helping our events or whatever else we need help with.
Training will be provided.
We are a community, so we try to keep people involved in all our activities. We encourage everyone to work harmoniously, supporting each other and as a team.
Accommodation
We provide a two-person shared en-suite room with wi-fi, breakfast and 2 other meals in return for 35 hours work a week, which means two days off a week.
All our classes and meditations are free for working visitors, and we ask our volunteers to attend at least one class per week.
We are located in a very central area, so you have everything that you need only a few minutes to walk from our building, and it is a city centre full of events, cafés and a lovely market.
Diet
At the Centre, we provide vegetarian and vegan meals and we have a zero TV, alcohol/smoking/drugs policy.
Our breakfast is 'help yourself'. Lunch is usually cooked for us by a volunteer or we have lunch from the cafe menu. The evening meal is 'help yourself', and you can cook from the variety of food we have including fresh and frozen food and prepared food in the fridge. We try to offer a good variety of food including protein, carbohydrates, vegetables, fruit and salad.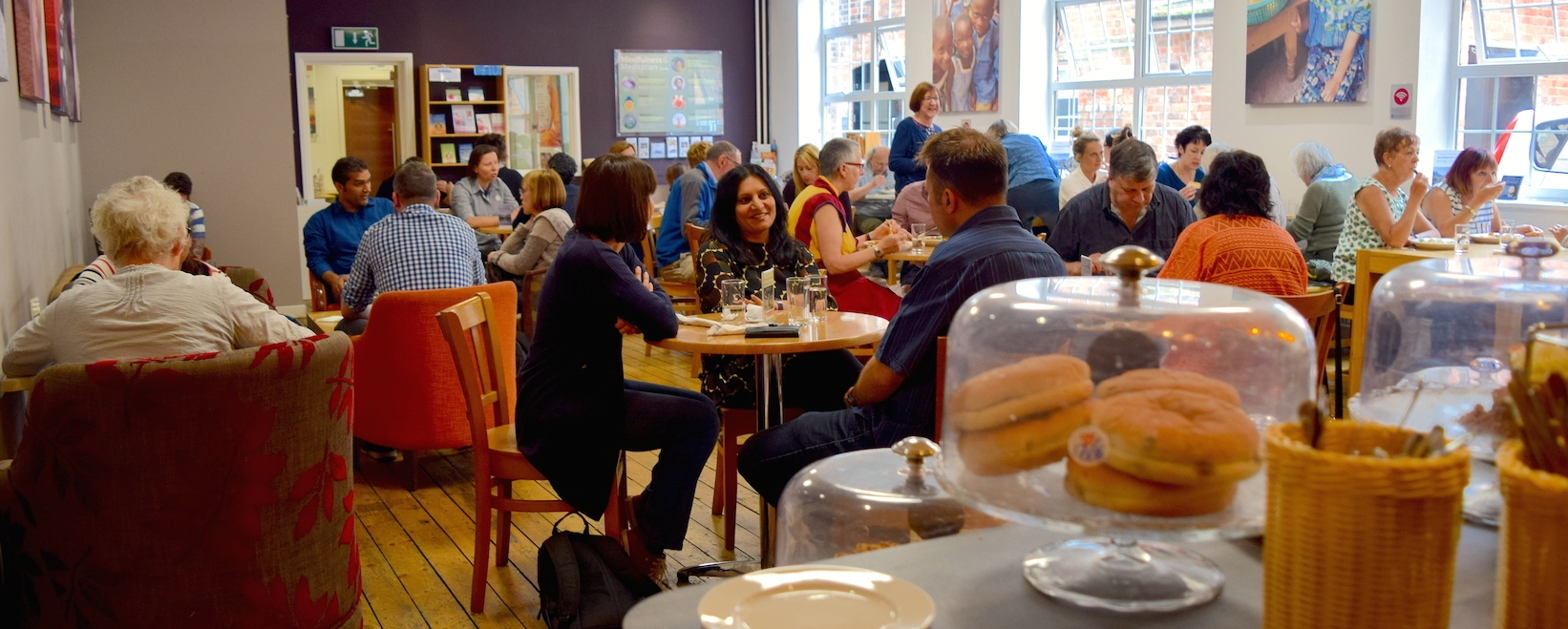 Others
I do hope you would like to come along and enjoy volunteering with us.
If you need any further information, please don't hesitate to contact me.
I very much look forward to hearing from you.
Kind Regards
Bea
How many volunteers could you host?
6
When would you need volunteers?
From February onwards
How many hours of help per day?
7
How many days of help per week?
5
Are accommodation and food included?
Yes, food and accommodation are included
What type of accommodation can you provide?
Shared bedroom
VISA – could you provide Visa support/info?
No, I cannot help with Visa and I don't have information about it. Requests for Visa will be ignored.
Volunteers' benefits
You will receive training in our World Peace Cafe. You will meet people from around the world and learn about other cultures.
We speak in English so your understanding and expression of English should improve.
You will have the opportunity to attend classes on meditation and Buddhism and there will be people here who are experienced meditators so you have the opportunity to ask questions and discuss. You will be in the city of Leicester with its multi-cultural population and many lovely shops, cafes, theatres, cinemas, parks and gyms all in close proximity.
What to do in the free time
You have the opportunity to get to know Leicester and the surrounding area. To read Buddhist books and attend our meditation classes. You can explore further afield if you want by taking a train or a bus to other cities. There are opportunities for enrolling in the nearby gyms or yoga classes, there is an art class nearby and other activities.
Language
English
Geography
We live in the centre of the City of Leicester close to the beautiful Cathedral. We have no traffic in direct proximity. There are parks nearby.
How to get to your site
You can reach us by train or bus. There is a train station and a bus station in Leicester. The nearest airport is East Midlands and it is a short bus ride into Leicester from there. Otherwise, with flights into Stansted and London, you can take a train or a bus into Leicester
Is there internet access?
Yes!
Interested? Use the contact details to get in touch with us
---
CONTACT DETAILS 🔍📧
---
Email: ad@meditateinleicester.org
Website: http://www.meditateinleicester.org
https://www.facebook.com/meditation.leicester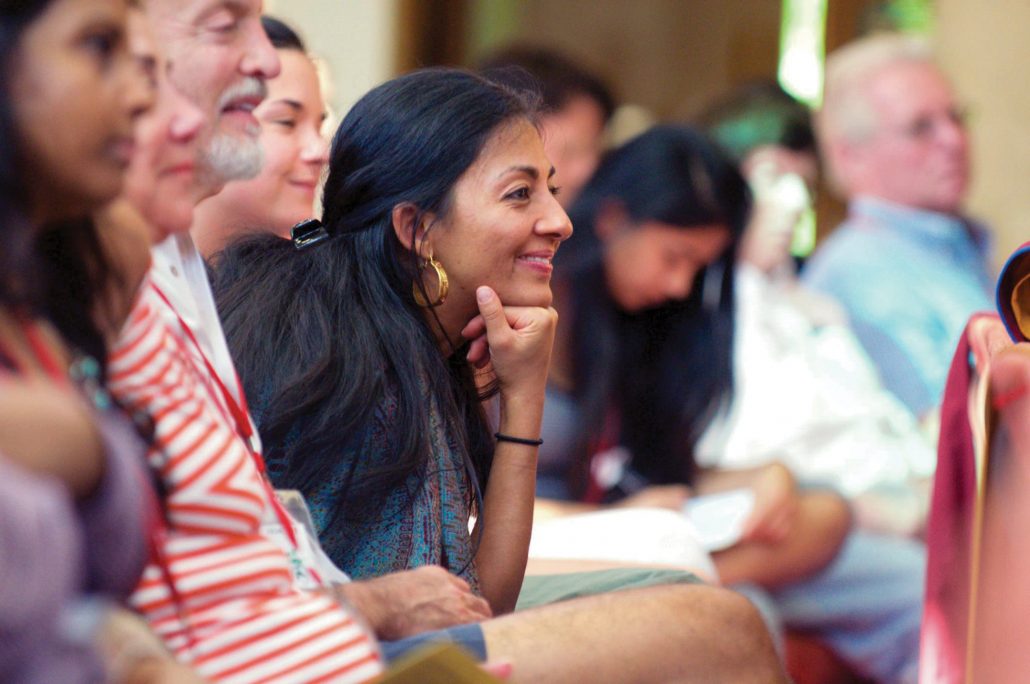 ---