The application deadline is September 27th 2020
Permaculture and Ecovillage – The European Voluntary Service is a program promoting cultural exchange and informal ways of learning. Young European people between 18 and 30 can participate. Your food and lodging, insurance, pocket money and your travel costs will be covered by the European Voluntary Service (EVS) program (what is it?). We can offer two vacancies from 01.01.2021 – 30.11.2021
The project is about working in the permaculture garden of our ecovillage in northeastern Switzerland, as well as living in the ecovillage. We are an intentional community of approximately 35 adults and 15 children, situated directly between the shore of a beautiful big lake and forest – and still close to nice cities.
Activities
The main voluntary work within the project is about permaculture gardening. Most of your working time you will be involved in the garden, preparing beds, sowing, planting, harvesting, looking after our ducks and chickens, etc. You will experience one entire season. It is a great opportunity to learn about gardening and self-sufficiency with vegetables and permaculture.
It will be the seventh time for us to welcome volunteers and we are really looking forward to getting to know you. We have seen how volunteers profit a lot from their experiences when they stay with us. Many say that they learn a lot about themselves, about communication and about living and working together.
Sincerely yours, the garden team of Ecovillage Schloss Glarisegg.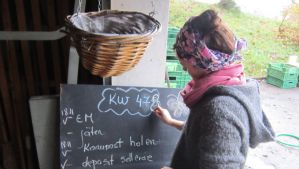 ---
CONTACT DETAILS
---
If you are interested, please apply with an email to: evs_glarisegg@gmx.ch
Include a short CV, some lines about your motivation, and one (or more) photos. Thank you!
Feel free to share this post with your friends, family or anyone that might be interested!
The website of our project: www.permakultur-bodensee.ch
Facebook: https://www.facebook.com/garten.buntevielfalt/
The website of our ecovillage: https://gemeinschaft.schloss-glarisegg.ch
You have the unique opportunity to participate at the EDE (Ecovillage Design Education) in Schloss Glarisegg to special conditions. The EDE is a comprehensive course in Integrative Whole Systems Design for Sustainability.
Visite: https://www.edeglarisegg.info
---