Embark on a green adventure: permaculture gardening in Switzerland's Ecovillage!
This 2024, a remarkable opportunity to experience permaculture gardening is unfolding in the Ecovillage of Schloss Glarisegg, Switzerland. The European Voluntary Service (EVS) invites passionate individuals between 18-30 years old from Europe to be part of an ecological journey, observing and participating in a full permaculture garden season from February until November.
An ecological sanctuary: Schloss Glarisegg
Schloss Glarisegg, nestled between a pristine lake and a lush forest, is a thriving intentional community comprising 35 adults and 15 children. It operates as a seminar centre, radiating knowledge and sustainable living practices, harmonizing with nature's rhythms. This enchanting place is a beacon of ecological balance and communal living, where like-minded individuals converge to cultivate knowledge and foster sustainability.
Experience permaculture in its full bloom
Participants of the EVS programme will witness the cycles of life in the garden, gaining insights and hands-on experience in permaculture practices. It's a unique chance to delve into the symbiotic relationship between various elements of the ecosystem, from the buzzing bees to the blooming flowers, and the enriching earthworms.
Special learning opportunities
To deepen the understanding of ecological and sustainable living, participants will also have the exclusive opportunity to partake in the Ecovillage Design Education in Glarisegg under special conditions. It's a gateway to holistic learning, intertwining various strands of ecological design, community living, and sustainable development.
The Ecovillage Design Education (EDE) program is a course that teaches people how to create communities that are good for people and the planet. It helps participants learn how to live sustainably, in harmony with each other and nature, by sharing practical skills and knowledge.
Benefits
Those who are chosen to join will receive food, accommodation, and pocket money, all covered by Movetia. If you harbor a love for gardening, and have experience in community living and practical know-how, this might be the life-changing experience you are looking for.
In an era where ecological degradation is rampant, opportunities like these are not just learning experiences but also a call to action to resonate with nature and cultivate a sustainable future. So, if your heart beats for a greener earth and a harmonious community, this might be the journey for you. Embrace the enchanting experience and become the harbinger of green change with the Garden Team at Schloss Glarisegg!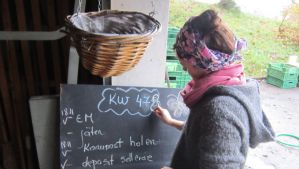 🌿🌸 Let's sow the seeds of sustainability and watch them bloom together! 🌿🌸
See CONTACT DETAILS🔍📧 below to apply!👇
---
About Schloss Glarisegg
---
Schloss Glarisegg is an intentional community of approximately 35 adults and 15 children, situated directly between the shore of a beautiful big lake and a forest – and still close to nice cities.
About the EVS
The European Voluntary Service is a program promoting cultural exchange and informal ways of learning. Young European people between 18 and 30 can participate. Your food and lodging, insurance, pocket money and travel costs will be covered by the European Voluntary Service (EVS) program.
We are searching for you, if you are interested in permaculture, gaining practical experience during a whole season, self-sustainability and living in an intentional community. The project is about working in the permaculture garden of our ecovillage in northeastern Switzerland, as well as living in the ecovillage.
---
To apply, send an email to evs_glarisegg@gmx DOT ch with a short CV, your motivations and experiences, and some photos of yourself. The first round of applications will be closing on the 10th of October, so don't miss the chance to be a part of this green odyssey!
For more details about the permaculture garden, please visit www.permakultur-bodensee.ch, and to discover more about Schloss Glarisegg and its endeavours, click here  https://gemeinschaft.schloss-glarisegg.ch
Community Facebook page: https://www.facebook.com/garten.buntevielfalt/
This announcement was posted by Schloss Glarisegg – Permaculture – Garten Buntevielfalt in our FB group 🚩
---
---