Passionate volunteer gardener and maintenance person ​wanted for the month of March 2020 in Alentejo, Portugal
General info
We have one volunteering position for someone who is enthusiastic and able to take charge of the landscaping and caring of the green areas around the guesthouse and who is also handy when it comes to general maintenance work.
We are looking for someone energetic who can work self-dependent and is physically fit.
​
Minimum stay 2 weeks, ideally the whole month of March, with the possibility of extending.
We will cook and take care of the shared spaces together and we enjoy taking trips to the beach, the Paradise Spot etc. It is a wonderful area for exploring, enjoying the tranquillity of the valley or simply disconnecting.
What type of host are you?
What are you looking for help with?
What's the mission of your community?
Intentions
Regaining sovereignty over our life rhythm & life context.
Developing new rituals and models for regenerative culture.
Creating spaces for authentic relations and initiation into adulthood.
Cultivating a social and natural environment that reflects our deepest desires.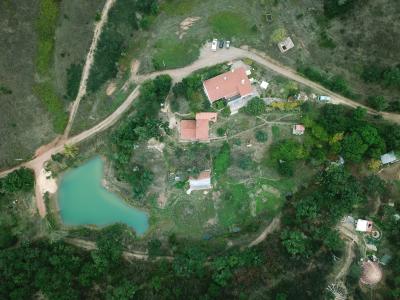 How many volunteers could you host?
Only one volunteer
When would you need volunteers?
as from March
How many hours of help per day?
4-5 hours of help per day
How many days of help per week?
5 days per week – 2 days off
Note about the volunteer work and other expectations
Shared bedroom in the main house or you can bring a tent or caravan/van
you will receive 3 meals a day
use of all the facilities
wifi
and some horse time
Are accommodation and food included?
Yes, we offer food and accommodation
What type of accommodation can you provide?
Dormitory/shared rooms
Tent
Treehouse
Others (please, specify in general info)
Diet – nutrition information
we cook vegetarian and can accommodate vegan and also gluten-free
VISA – could you provide Visa support/info/invitation letters?
No! we cannot help with Visa/invitation letters – similar requests will be ignored.
Volunteers' benefits
use of all the facilities
wifi
trips to the beach, markets, parties etc.
and some Horses time
What to do in the free time
chilling, hiking, surfing etc.
Language
English, German, Spanish
Geography
The Community is set in the hillside, overlooking the fertile green valley with its veggie gardens, a small lake and the hills with its cork-oak forest. Vale Corticas is 25 min. from the ocean, 10 min from "Pego das Pias" (sweet water lake), 5 minutes from the famous hiking track "Rota Vicentina" and 5 minutes away from the town Odemira, which has all amenities.
How to get to your site
Bus to Odemira
Is there internet access?
Yes!
"Paying guests" Option. Could you accommodate "solidarity" tourists?
Yes, we can accommodate eco/responsible tourists & paying guests
Maybe. This needs to be discussed via e-mail
---
CONTACT DETAILS
---
Website: https://project-community.weebly.com/contact.html
Hostname: Vale Corticas
Host Email: tierra.anima@googlemail.com
---