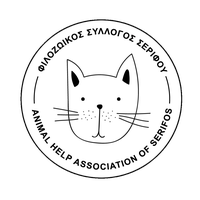 An animal shelter in Greece is looking for volunteers – Hello, we are looking for help to care for 13 dogs at our animal shelter on the Greek island Serifos.
Requirements
The applicant should be accustomed to working independently and have a driving licence.
The volunteer exchange at the animal shelter
There will be 4 days of work per week,
housing and food provided for a minimum stay of one month.
Location

About the organization
Two associations – one common task:
local implementation… an association can achieve more and also has greater acceptance than is possible for dedicated individuals.
Therefore, in June 2016 we founded the Animal Help Association of Serifos FILOSS.
Its members (Greek and foreigners) are working locally for the realization of the objectives and the establishment of an animal shelter and a veterinarian clinic. Support from Switzerland and other countries is necessary for projects to maintain construction work and infrastructure.
Goals and reasons
Greece has a very strict Animal Protection Act. Whoever disregards this must expect draconian fines. And yet the rights and the dignity of animals – e.g. on the island of Serifos – are continuously and seriously breached, dogs are kept permanently on iron chains, donkeys, goats and sheep have their legs bound together, multiple kittens and puppies are "disposed of" in the garbage, cats and dogs are poisoned,…
For years animal lovers, visitors and tourists in Serifos have provided medical assistance, walked chained dogs, and tended to and supported abused animals. This has helped little, a change for the better is not in sight, on the contrary: animal suffering is getting worse.
This has to change!
Systematically, and well-organized, we want to adopt and implement animal rights on Serifos. Practically and hands-on we want to provide a dignified and species-appropriate life for sick, abandoned, and abused animals.
---
CONTACT DETAILS🔍📧
---
Animal shelter in Greece – Please contact us for further questions.
Facebook page: https://www.facebook.com/groups/serifosanimalfriends/
Animal shelter website https://www.filoss.com/
This volunteer request was posted by Maura on our FB volunteer group
---