Updated 2022 – Welcome Europe! We are starting new recruitment for long-term volunteering in Poland. 😊
If you want to:
learn about democratic and alternative schools, 🟡
see what education "out of the system" looks like, 🟡
immerse yourself in working with children based on a real and deep relationship,🟡
spend a lot of time in nature, 🟡
be part of the school community,🟡
find new friends and discover new places,🟡
and last but not least – get job experience in the education field…🟡
…then we are looking for you!
About the project
MAIN GOAL is to introduce nonformal active creative methods in the innovative democratic, alternative, forest kingardens and special needs schools in Poland.
What do we offer?
Food, accommodation + pocket money
unique opportunity to live in a foreign country,
practice English and work for a social goal
development within the community of many youth workers here on the spot
Youthpass Certificate after completing the service
support from the project coordinator, mentor and the tutor
opportunity for personal, social and professional growth
life-changing experience
cycling, roller-skating and cross-country trails, outdoor gyms, swimming pools, aqua-park,
concert halls, open-air concerts, cinemas, theatres and festivals
city bus card to travel in the region
great location with excellent connections to many cities in Poland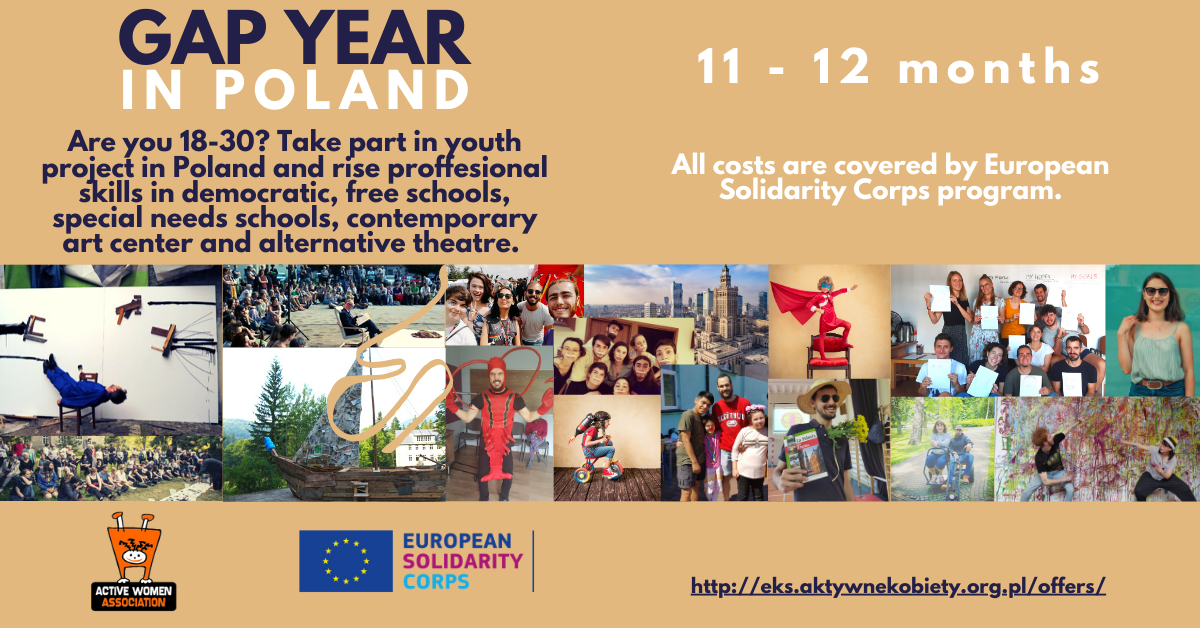 ---
CONTACT DETAILS 🔍📧 how to apply?
---
Are you looking for interesting work abroad? Do you want to gain professional experience in alternative education? Are you interested in work that will enrich your CV? And besides, do you want to experience an unforgettable adventure in the centre of Europe? Choose the offer of the European Solidarity Corps! With us, you will experience a great adventure year and start ambitiously building your future.
INFO PACK 2022👉 http://eks.aktywnekobiety.org.pl/wp-content/uploads/2022/02/Alternative-eduaction3_compressed.pdf 
Details about the offers you can check here: http://eks.aktywnekobiety.org.pl/offers/
We welcome you also to visit the fan page of our volunteers. You can be its next editor! 😁 https://www.facebook.com/europeanvolunteerspoland
✍️ Application form: https://docs.google.com/forms/d/e/1FAIpQLSc7xS_gUK56Ai8-cMXWV1QfFvUut_yftaTDdBl3FgWaatX-JQ/
---