Do you want to join us? Read more!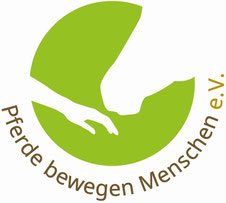 Hello, our beautiful farm "Weidenhof" is located close to Baden Baden/Freiburg/Karlsruhe.
On 5 ha we have 4 horses, cats, sheep and goats.
We're looking for a cheerful person with skilled hands.
A long stay is possible.
Permaculture, horse assisted therapy and ecological building on our small farm  – Gernsbach, Germany
About us
Uwe is a competent craftsman and has a lot of experiences with ecological building projects. He worked for several years as a construction manager. He is as well a yoga and dragon dreaming trainer and we both are very interested in a healthy lifestyle and sustainable living.
I (Frauke) am a social worker, psychotherapist (Gestalttherapie) and working in the field of animal-assisted therapy.
We both love to work with children and teens.
Simeon is a wilderness pedagogue and Moritz is a great vegan chef, who takes care of us 😉
Our philosophy
We work as well with traumatised people.
Be aware when visiting us that we work therapeutically and have therefore a special way of non-violent communication and behaviour. We have been creating on our farm a "safe space" where we maintain an atmosphere of mutual respect and partnership – both with our clients and our animals.
This includes a few rules at the farm which we take very seriously (for example not to feed the animals out of your hand, going very aware to an animal with noticing in advance if the animal really wants you close and to be touched). In the beginning, they may appear a bit strict to you. We view them more as an opportunity for you to experience a new way of being and living together- both with humans and with animals.
Tasks
Construction and building projects (green classroom for children,
yurt
, insulating, clay-building), animal care, gardening, cooking,… we are active in animal-assisted therapy. When you are interested you could learn something about the regardful contact with animals/ horses (no riding). We are in the midsts of rebuilding activities.
We are installing permaculture projects (green classroom, food forest, raised beds,…) on the farm so we are more than happy if you want to share your knowledge on that topic with us.
Why hosting voluntourists
We like to have contact with different cultures, nationalities and mentalities through helpers. You will be treated as part of the family, so helping in the house with meals, cooking, washing up etc. is part of being with us.
Requirements
Our voluntourist should have skilled hands and of course, we would be happy with a talented gardener, craftsman/ architect or Ingenieur! And you should like animals 😉
Duration of stay:
at least 2 weeks, when it fits for both sides, you're invited to stay longer
Our helpers join the work 6 hours per day/ 5 days a week.
You need international health insurance.
Accommodation
You will sleep in a trailer (perhaps to be shared with another helper, sleeping in the hay or in a tent. Just ask us what's available during your stay. You will have a small bathroom and a kitchen for cooking as well.
In return
Our farm is located in the very beautiful "Murgtal"-area (www.gernsbach.de). You can for example bike, walk and swim. Beside friendly hospitality, you will be supplied with food and accommodation.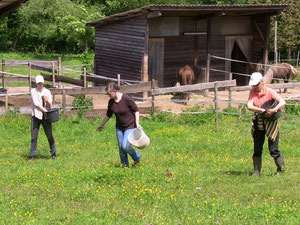 Languages
We speak German and English fluently and would like our guest to speak one of those languages.
Habits
Smoking is allowed only outside.
No drugs, only moderate drinking habits are tolerated, no alcohol consumption in common rooms.
We are vegan/ vegetarian.
What you should bring
– Solid shoes (while working with machines)
– Because of the ticks long pans
– Sleeping bag
– Rain clothes and some for hot temperatures
– Swimsuit
– Some warm clothes
– International driving license if available
Internet
We have only a few spots on the farm (outside) where you might have an internet connection with your mobile.
For a break from the digital world no laptop use in common rooms.
We also have a cafe with W-Lan in town (2 km).
Your way to us
Closest train station "Gernsbach-Bahnhof" or "Baden-Baden" and from there per bus (30 minutes).
by plane "Baden-Baden Airpark" (we can pick you up there)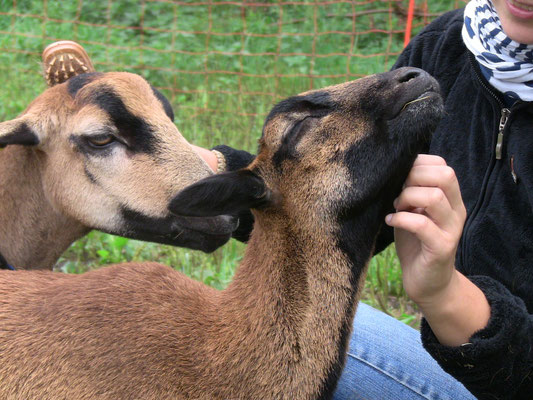 ---
CONTACT DETAILS
---
WEBSITE
76593 Gernsbach
info@pferde-bewegen-menschen.com I
Tel. +49 (0)7224-6200782
Best Frauke and Uwe

---